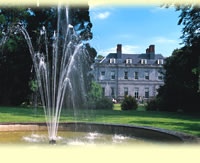 The Cashel Palace Hotel, Tipperary is situated on 28 acres of land – some of it consists of manicured gardens while more of it is land under pasture, which at some point rises up into more rocky terrain that eventually reaches and surrounds the ancient and world famous Rock of Cashel.
While this beautiful house and former Bishop's Palace is situated on the Main Street of Cashel – it is set back from the town with a Gate Lodge, a former Coach House, an old School House and car park to the front so it comes as a huge but welcome surprise to many to find at the rear of the Palace - extensive beautiful gardens highlighted by two ancient Mulberry Trees planted in 1702 to commemorate the Coronation of Queen Anne, standing proudly in the middle of the lawns.
The gardens also contain descendants of the original Hop Plants used by Richard Guinis, an agent for Archbishop Price of Cashel in the 1740's, to brew the first "Wine of Ireland".
Mr. Guinis and his son Arthur went on to brew this beer in Dublin and to found the famous Guinness Brewery at St. James' Gate.
These gardens also comprise of a private pathway, known as The Bishops Walk, to the Rock of Cashel, the 13th Century Cathedral and ancient seat of the Kings of Munster. Some of this walk consists of Yew trees and in part some of the Ancient City Walls - which offers quiet and peaceful seclusion.
Our gardens also consist of a Vegetable and Herb Garden used by our Chefs in the preparation of organically produced dishes for the house's finest in season menus.